12:00 pm
[arbab]

Student!
Teacher:
teri shikayat ayi hai k tu gaaliyan bohat deta hai.
Student:
Sir! mein ne tou kabhi kisi bhenchod ko gali nahi di, pata nahi kis madarchod ne ap ki gand mein ungli ki hai, agar woh ma ka lora samnay aa jaye tou us kus k dhakkan ko dekh loonga. Sir apka student gand marwa lega per gali kabhi nai dega!!
kthx.
Current Mood:
amused
10:25 pm
[punkistani]

Sharia Law in the U.S.A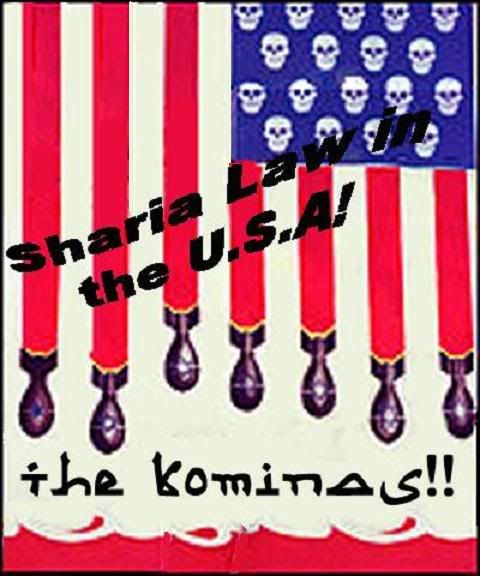 click image to be directed to a streaming version of The Kominas' "Sharia Law in the U.S.A"Final version of Sharia Law in the USA recorded by Dana Chisholm, on an Apple computer in war torn Lexington, Massachusetts.

Sound bytes were taken from The Atomic Cafe and Blazing Saddles, and Counter Strike. Female vocals done by Kudret Usmani. Orig poster by Hezbollah, refined by Basim Usmani.
7:04 am
[punkistani]

Rafi Peer, CD distrobution and duplication in Lahore
Hey!
I'm the vocalist/bassist of a Boston based Desi Punk band called
The Kominas
, and we're looking for the best way to make our cds available in Lahore. We're not looking for any money, but just venders who'd be comfortable selling them and allowing promotional posters to be hung for it.
Is it better that we get the CD duplication done here in the USA, or should we leave it do be done in Pakistan? I'll only be in Pk for 3 weeks, so my schedule is tight. But my luggage may be tighter.
Also, any info on organizers of Rafi Peer would be great! Contact info, etc. Thanks for everything ;)
You can either leave a comment, or email me at thekominas@yahoo.com
Thanks,
~ Basim Usmani
thekominas@yahoo.com
http://www.myspace.com/thekominas
1:00 pm
[arbab]

Chaltay Chaltay..
Chaltay chaltay un raahoon pay peechay mur k dekha tou,
Gard ki moti chadar main apna aks bhi dhundala tha,
Chaltay chaltay suraj bhi jab door ufaq main doob gia,
Raat andheri kia janay keh main bhi kitna tanha tha!!

Amen.
Current Mood:
bored
6:21 am
[received_grace]

what to do..
Hey, I'm new here. I take it this is a new community?
I'm trying my luck anyways.
Towards the end of the year I'm going to Pakistan for a month, and I'll be landing in Lahore and staying there for a few days. Any recommendations of places to see and things to do?